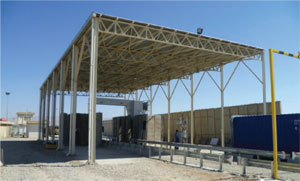 The Papiscan Eagle® Portal Series offers best—in—class imaging, robust standard features and advanced options. Ideal for heavy traffic gateways, with powerful 4.5 or 6 MV X—ray imaging systems they provide a thorough inspection and high throughput.

The Rapiscan Eaglef Portal Series of high—energy X—ray, drive through portal cargo inspection systems for fast, accurate and efficient cargo screening. Able to rapidly scan trucks supports inspection at critical facilities, seaports and border crossings. The Traffic Control and Monitoring System enables automated operation providing a scan throughput up to 180 vehicles per hour.


The Eagle Portal has a 4.5 or 6 MV X—ray imaging system that enables inspection of dense cargo, verification of manifests and identification of contraband, such as explosives, weapons and narcotics.
The Eagle Portal systems consists of the portal, which supports the X—ray generator and detector array, the Traffic Control and Monitoring System and the containerized offices, radiation shielding walls or a weatherproof building can be optionally added.
Material separation option on the Eagle P60 — helps the inspector find low density contraband, such as explosives and narcotics.
These low density materials appear differently in the X—ray image from high density materials, such as steel.
High throughput inspection in multiple modes with Rapiscan Eagle P Series portal scanners, deliver high quality X—ray imaging in a high throughput operation. Trucks can be screened safely as they pass through the portal.
With innovative features such as the Traffic Control and Monitoring System for automated scanning, the crew can focus on evaluating the scanned vehicle and its cargo, saving time and money.

Rapiscan Eaglef' Portal Series Standard Features
Drive—through cargo inspection
Automated scanning operation
Throughput up to 180 trucks per hour
4.5 or 6 MV X-ray imaging system Industry leading X-ray imaging quality
Easy-to—use Rapiscan Cargo Viewer software
Meets radiation safety standards
Designed for easy relocation
Easy to maintain

Rapiscan Eagle"' Portal Series Options
P60 - Material separation capability with the optional dual-energy X-ray generator
Gamma or gamma/neutron radiation detection integrated with the X-ray scan
Automated capture of the license plate and/or container number - Operator Assist tools to increase inspection efficiency
Cold and/or hot weather package for expanded operational environment
Concrete shielding walls/ Weather proof building
Diesel electric generator