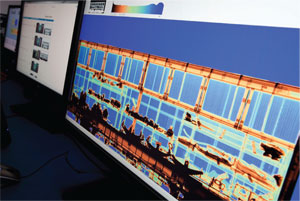 Rapiscan Eagle® Rail scanners deliver high—quality X—ray imaging in a high-throughput operation. Cargo on rail cars is safely screened as the cars continuously move past the scanner.

The Eagle''' Rail scanners' ability to rapidly scan rail cars, including cargo containers transported on rail cars, supports high inspection throughput at sites, such as seaports and border crossings. The highly automated scanning process scans rails cars as they travel past the unit at speeds of 10 km/hr up to 60km/hr with Rapiscan's market leading High Speed rail scanner.


The Eagle Rail Scanner Series are designed around application requirements, available with a 6 MV or 9MV X—ray imaging system they are designed to automatically scan rail cargo, which would otherwise have to be manually inspected.
Automated scanning - The Eagle Rail Scanners achieve high-throughput, continuous scanning of rail cars as they move past the scanner
Rapiscan Eagle R—Series rail car scanners deliver high—qua|ity X—ray imaging in a high-throughput operation, with innovative features, such as the Scanning Control and Monitoring System for automated scanning, the crew can focus on evaluating the scanned cargo, saving time and money.
Safe scanning — The Eagle R90's safety system ensures that only unoccupied rail cars or containers are scanned to prevent inadvertent exposure of people to the primary X—ray beam.
The systems are designed to scan all types of non passenger rail freight from cargo containers, double—stacked containers and two 20- foot containers on rail cars.
Only cars transporting cargo containers or with RFID tags are scanned to prevent scanning of occupied cars. The image of each car is saved in a separate file and sent to a nearby office for review and evaluation.
The Eagle Rail Scanner imaging systems enables inspection of cargo containers transported by rail for verifying manifests and identifying contraband, such as explosives, weapons and narcotics. Optional capability to detect radioactive material in cargo is available.

Rapiscan Eagle" Rail Scanner Series Standard Features
Continuous inspection of containers on moving rail cars
Automated scanning operation
Throughput up to 180 trucks per hour
6 MV or 9 MV X-ray imaging system
Safety systems ensure only cargo is scanned
Easy-to-use Rapiscan Cargo Viewer software
Meets radiation safety standards
Automatically captures container identification numbers
Industry leading X-ray imaging quality

Rapiscan Eagle") Rail Scanner Series Options
High Speed system to enable scanning at up to 60km/hr
Material separation capability with the optional dual—energy X-ray generator
Gamma or gamma/neutron radiation detection
Operator Assist tools to increase inspection efficiency
Bespoke shielding walls
Bespoke operations and inspection facility
lntra-system networking for remote operation and inspection