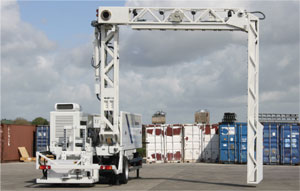 The Eagle® Trailer Series T10 delivers Rapiscan's Eagle X-ray imaging on a towable trailer for mobile, rapidly deployed cargo and vehicle inspection.

The Rapiscan Eag|e'~" Trailer Series T10 is trailer-mounted, drive-through X-ray cargo inspection systems for fast, accurate and efficient cargo screening. The rugged, all-weather units are easily towed to an inspection site and ready to begin scanning in 10 minutes. Vehicles are scanned as they drive through the deployed boom, while the remote operator reviews the X-ray images at a safe distance. The Eagle T10 inspects the vehicle and its cargo for contraband, such as explosives, weapons and narcotics.
The Eagle T10's 1 MV X-ray imaging system provides the imaging performance required to scan vehicles and their cargo. The resulting high-quality X-ray images enable the operator to effectively find hidden contraband such as explosives, weapons and narcotics.
The fully self-contained, trailer-mounted Eagle T10 unit is easily and rapidly deployed to respond to changing operational requirements.
The system can be easily transported via C-130, or towed to site and set-up in 10 minutes.
The unit includes trailer-mounted scanner, remote operator PC and electric generator with an option to run on JP8 fuel for military applications.
The Eagle T10's main scan modes, where trucks are scanned as they drive through the inspection tunnel.
The Eagle Trailer Series are available with the capability to safely scan occupied vehicles. The radiation dose to occupants, crew and bystanders falls within applicable requirements.
The Eagle Trailer Series - T10 may be installed on a militarised trailer especially equipped for rugged military operations and military aircraft transport. It can easily be driven to a border crossing, to different inspection sites at a seaport or from a storage location to a deployment site. The trailer is designed to meet the requirements for operation on public roads in the country where the unit is installed.
A fifth wheel dolly set and steerable front axle are available options to allow towing by military vehicles Optional capabilities to detect radioactive material in cargo are available with the Eagle T10.
The rugged design enables the unit to operate day and night in all weather conditions and in some of the harshest environments and theaters.

Rapiscan Eag|e""' Trailer Series Standard Features
T10 -1 MV X-ray imaging system.
Trailer-mounted configuration for quick deployment in response to changing operational needs
Drive-through cargo inspection
Automated scanning operation
Easy to maintain and operate by a 1-2 person crew

Rapiscan Eagle" Trailer Series Options
Gamma or gamma/neutron radiation detection
Automated OCR capture of the licence plate and/or container number
Shore power operation
Wireless or fibre optic connection to the Operator Computer
Cold and/or hot weather package for expanded operational environment
Electronic data interface and networking
Military configuration